European School of Economic Intelligence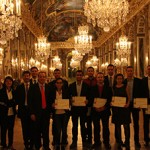 The European School of Economic Intelligence (EEIE) trains students in the research and analysis of strategic business information. The curriculum also includes the protection of key information, as well as e-reputation management.
The EEIE degree is state-approved, equivalent to a Master 2, and labelled "Degree in economic intelligence consulting" (Titre de Consultant(e) en Intelligence Economique). Students must complete 60 European ECTS credits for a year's program, or 30 if they study for one semester only. Prerequisite : Applicants must hold a Master 1 degree. The school is based in Versailles, in a remote wing of the Palace of Versailles.
Our classes are kept small to meet our requirements for quality and individual tutorship. Applicants will be invited for an interview aimed at making sure our school meets their training and career goals. Most classes are held in French, some classes will be held in English. A good level of French is required.
Missions
Our students take part in real missions conducted for businesses, taking them straight into their professional life while still at school.
Partnerships
EEIE has a partnership with ISC Paris business school, and offers its MBA program alongside the core EEIE curriculum. Our international partners include engineering school 2IE in Burkina Faso, active in sustainable development, as well as the Moroccan branch of Canada's Sherbrooke College.
International relations are coordinated by the school head, with the help of an international coordinator. The team assists student in preparing their stay, sets up study contracts and follows study programs as well as the transmission of grades and credits to students' core university.
More on International operations
ECTS credits
The EEIE operates within the European Credit Transfer and Accumulation System training and certification framework. Students must complete 60 European ECTS credits for a year's program, or 30 ECTS credits  if they study for one semester only, and 20 ECTS credits for a trimester. ECTS credits are used to validate courses taken by our students, as well as with our partner schools, to ensure that all of our students are evaluated in a consistent and recognized framework. Study contracts will make clear which courses each student can validate. ECTS credits appear in grade reports transmitted to students and to their original university.
More on the Curriculum and course list
More on the criteria of partnership with other institutions
More on our online hub project